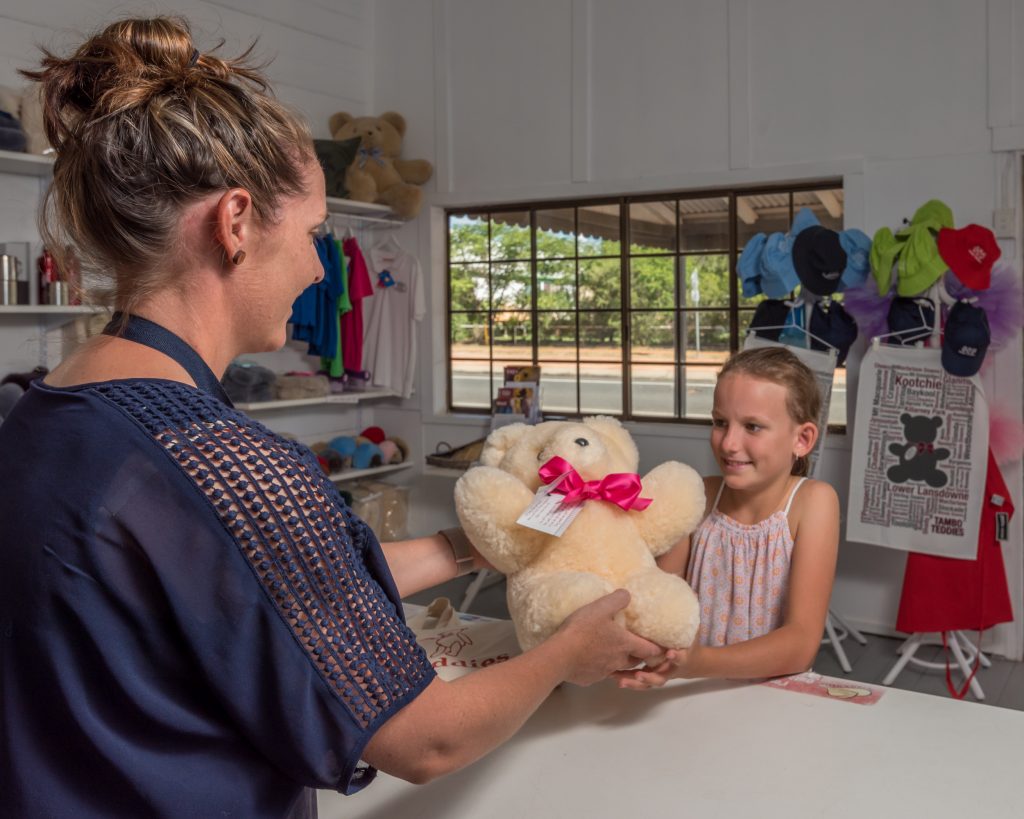 Created in Outback Queensland, Tambo Teddies are tenderly crafted from 100% woollen sheepskin, truly an Australian hand-made product.
These very appealing, friendly teddy bears come in different styles. There are two teddy families, the Basils and the Tobies; basils are a traditional teddy bear style and the tobies have a chubby physique and come as multi-coloured patch work bears. Find a soft and cuddly Bickie Bear for your newborn or a fully dressed Mr. Stockman teddy bear with his hat, swag and stock whip.
Pop in and see your bear come to life as he or she is lovingly made. As their personality emerges each bear is individually named after a farming property in the Tambo district.
In the workshop, you can meet your new lifelong companion, over 59,000 teddy bears have been made and yours will have its own unique number and personality; no two bears are ever the same. You might fall in love with Macfarlane Michael or Tambo Station Tony or not be able to resist the charms of little Drensmaine Debra; but be assured there is a teddy bear just waiting to go home with you.
Tambo Teddies are made in our Tambo store and from 2019 in our regional sewing hub in Toowoomba as well. All made with love, each bear is of exceptional quality.
Tammy and Alison and their  friendly staff can't wait for you to visit. We want you all to love Tambo Teddies as much as we do!