Tambo Teddy, Buckland Bernadette was given an extremely important job to do, she was to move into the Buckland district to help raise money for the Royal Flying Doctor Service. She was to be first prize in the yearly raffle drawn at the RFDS field day at the Buckland Club, halfway between Springsure and Tambo. To keep her company, party bear came along as 2nd prize.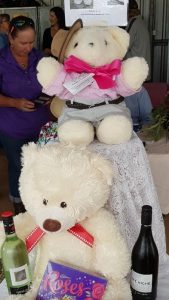 Bernadette spent a few weeks in a store in Springsure while tickets were sold.
The big day arrived, and she escorted the local children, to the strip to meet the plane. The RFDS crew were so excited to meet her that they had a photo shoot with her.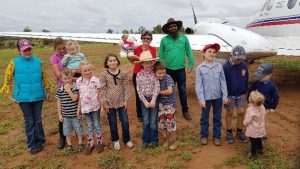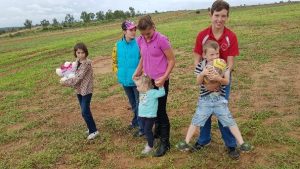 Bernadette accompanied the children into the plane where the pilot explained how everything worked. This is a very important part of the field day as it will help eliminate any stress if they ever need to be evacuated.
Back at the shed, Bernadette helped the club patron, Nesta, sell raffle tickets. Before stopping by the bar for a drink from barman Jack. Next, she was introduced to Buckland's own Bernadette and guest speaker Shanna Whan, founder of Sober in The Country.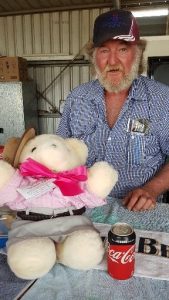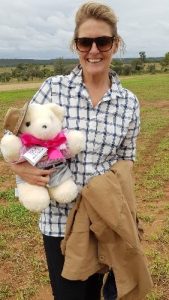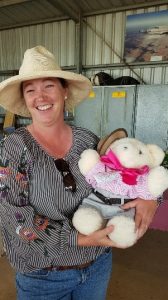 It was then time for fun as Bernadette joined the R.A.F.S. girls Emilie and Jodi helping the children, make kites and play with playdough.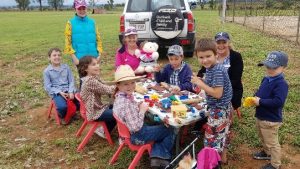 A lovely lunch followed with Bernadette helping. After lunch everyone listened to the guest speaker and Bernadette took the stage to find out who was going to be her forever friend and take her home. Much excitement as Emma Squire's ticket was drawn. Emma is a lover of Tambo Teddies, so Bernadette has acquired two Teddy brothers. The raffle raised $1473.00 for the RFDS.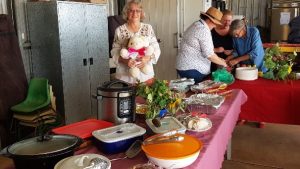 Before the RFDS crew left, the whole community gathered at the plane to have their photo taken. Bernadette sat proudly on our patron's knee.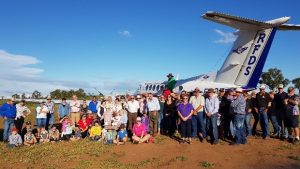 At Tambo Teddies we do enjoy being able to help great communities support great organisations!