At Tambo Teddies we have the perfect stocking fillers and special gift packs for Christmas 2021.
Stocking Fillers:
Tambo Teddies Puzzle, new to the product range Little Aussies Camping Adventure has come to life as an interactive toy. Have fun in the bush with Peter Possum, Ernie Echidna and others.
2. Tambo Teddies Adventure Books, the best stories for bed time, buy the set or individual titles.
3. Tambo Teddy Bucket Hats – perfect for keeping the sun off over summer. Great bright red colour, you won't lose them in the crowd!
4. And for the 'big kids' – our pick is a Tambo Teddy stubby cooler.
5. And for the whole family to enjoy – Tambo Teddy picnic blankets, just what you'll need on Boxing Day!
https://www.tamboteddies.com.au/product/tambo-teddy-picnic-blankets-2/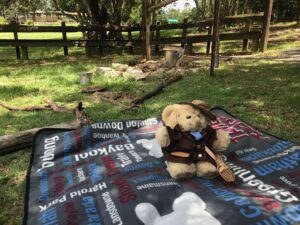 Plus our Special Christmas Gift packages:
Puzzle Book Echidna Gift Pack – have fun with our Echidna, puzzle and book combo.
2. Toby Book Gift pack – Just in time for Christmas, a beautiful, soft Toby Teddy together with a book.