Troy Cassar-Daley and Laurel Edwards!
These two beautiful bears were originally given to Troy Cassar-Daley and his wife, Laurel Edwards' two children, Jem and Clay.
Hailed as one of Australia's finest country music stars, Troy Cassar-Daley has a reputation of being a 'good bloke'. Troy has visited the Blackall-Tambo region several times during his career, his last visit was a Locals and Legends tour that was part of the Better in Blackall Festival in 2019.
The family decided they no longer had a need for the two Teds now that Jem and Clay have grown up and left home. So, being a good bloke and as recent 'empty-nesters',  Troy and Laurel, sent their two Tambo Teddies back to us to give away.
We put a call out across our facebook page and e-news letter for people to guess who the empty-nesters were. Fans were asked to send through who they thought the 'famous' owner was and who they would like to give the bears to.
We received a flood of entries, but no one came close to the correct answer! We had to pop a hint out across all channels. Correct entries started flooding in, over 75 correct guesses. Filtering through all the entries, we settled on two that tugged our heart strings.
The small lemon basil, Greendale Gabbie, was sent to Debby Barnes who gave it to her mother-in-law Pat. Pat has Alzheimer's Disease and lives alone with only her 14 year old dog to keep her company. Sadly her best friend has a rapidly growing mast cell tumour on his nose and won't have long to live. Debby considered the bear would place a smile on Pat's face each time she saw her. (And it looks like she will)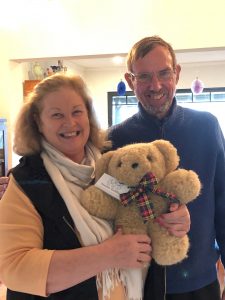 The small honey toby, Manning Mister, was sent to Janet Anderson who is giving the bear to a dear friend's granddaughters, the youngest of whom was recently diagnosed with a rare brain tumour and is currently undergoing chemotherapy.  In the picture Janet's friend Amanda is holding the teddy along with Janet's husband Bill. The teddy is going to it's new owners , although the little girl is seriously ill in the children's hospital in Perth. Let's hope eh helps the family experience a little joy.
It was lovely to re-gift these Teddies on behalf of the Cassar-Daleys, and we think we found two very worthy recipients. As well as two new loving homes for a couple of cute Tambo Teds.
We did get a wee laugh from the following entry:
'Ok now I have it,  I think, It's Troy Cassar Daley as Laurel Edwards is married to him.  That's the connection!!! I was listening to 4KQ last week and heard Laurel Edwards talking about these teddies and what she has done with them.   Laurel is Troy Cassar Dalys wife!!!!!!!  '
Can't believe more people didn't put two and two together!