Tambo Teddies is all about family life. The Teddies that leave our store all become a part of a unique family. With Father's Day coming up soon, it's time to give a shout-out to all the great Dads out there.
We love our Dads, just the way they are! It helps, though, that they have some similarities with our Teddy Bears.
Teddy bears are great protectors, but so are Dads!
Dads are excellent at staying calm while teaching children crazy things, like riding a bike or handling power tools.
They can create a magical moment just by reading bedtime stories before bed, and they are professionals in scaring away monsters under the bed or in the closet.
When it's really time to sleep, the Teddy Bear can take over.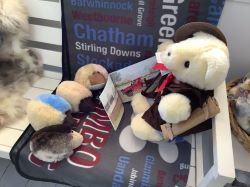 Thank you, Dads, for making us feel safe and being there for us in times we need your help and wise advice. When you have a superhero dad, you know that not all heroes wear capes. Sometimes they get their nails painted, wear the Elsa wig or a pretty Tutu.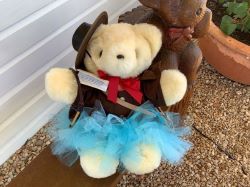 Dad's also give the best hugs!
Receiving a hug from Dad can be very comforting and it's great to feel the love.
Did you know that if you have a bit of Teddy Bear figure as a dad, we really appreciate that! Everyone that loves cuddling prefers a Teddy Bear shape. Let's be honest, how much is there to cuddle when you have a sixpack?!
It doesn't matter if you are daddy's little boy or girl, dad's love to spoil their kids.
With Father's Day coming up, it's time to return the favour! We at Tambo Teddies could not stay behind, so we showed some extra love to our Tambo Teddies dads with some manly goodies!
Because let's be honest, real men hug bears too!