The world is a different place at the moment. It's difficult to see our friends and family and feel the love from each other through cuddles and being close to one another. Overseas travel is still a no-go, and this is impacting on many people who miss their loved ones.
Tambo Teddies advocates for Love Across Borders! We can't wait for the borders to open up again so we can give our loved ones a hug. But we feel so blessed that we can still send love to family and friends with a Tambo Teddy. Luckily, our Tambo Teddies are able to travel, and they sure do!
Cranmore Cordie was sent to little Cordelia in New Jersey, USA, taking a message of love from her grandparents for her first birthday. We think they're on a winner!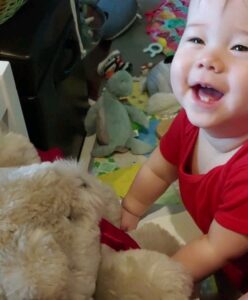 Love across borders also means we put all our love into making the teddy bears. A crucial trademark of Tambo Teddies is the uniqueness of our bears. We care for our products, and we will go the extra mile to make your Teddy Bear that special, one of kind, gift. A present to yourself or someone who is very dear to you. Nothing says 'I love you' as well as a teddy bear. While we are missing out on the cuddles of our loved ones, we can send our love and comfort through this special gift.
You pick the bear, its colours, type of ribbon and name and we will put it all together. We are happy to handwrite a personal message from you on a note or card, which will make the surprise for your friend or family even bigger.
These crazy times can make people feel down and lonely. But did you know that there are more people thinking of us than we realise?? That's where we can make in difference in these tough times. Ring your friends and family, let them know you are thinking of them and how important they are to you. Knowing we must wait a bit longer to give each other the so much wanted hugs, we can send love across borders with a Tambo Teddy!