Almost everyone's heart melts when they see a newborn baby. You can hear your friends and family go "ahww", and "oooh" when they first see the new baby boy or girl. In Tambo, we are blessed with a great community where couples love to start their family, so we enjoy these moments quite often.
At Tambo Teddies we have got you covered to celebrate the new life and add to the cuteness overload with our lovely teddies and other stuffed family members.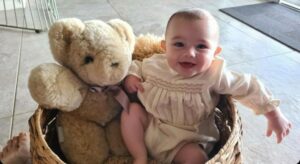 You can get a small or big Teddy that will be your baby's best new childhood friend for life. Our teddies are truly lifelong friends and because of this, parents sometimes like to keep the Tambo Teddies somewhere safe from the less cute things babies produce, the liquids…But don't fret, we have something so adorable, it might compete for the "ohh's" and the "ahh's" against your little one.
Meet Tom Thumb!
NEW in stock, Tom Thumbs! Tom is a bit smaller ( only around 20 cm tall) and for many people that adds to how adorable score. Tom's a great little friend who is happy to be the babies favourite new cuddle buddy!
Or would you like to go even a little bit smaller?… Or should I say, flatter?
Our classic Bickie bears and Bickie Koala's are the go for you! They are extra soft and just perfect  in every baby's cot. We hear stories from our customers how their babies fall asleep with their Bickie. Bickie are  easy to take with you when you're travelling or on an outing, babies best friend!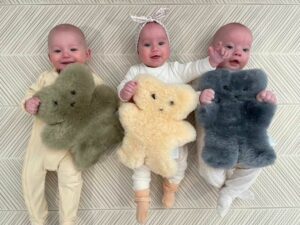 And we've got some more exciting news! We will be launching a new member of the Bickie family really soon and we can assure you,  you will be as excited about it as we are! More cuteness overload to come !
Keep checking our socials and website to find out what it will be.