It's a wrap for 2022, and the Toowoomba Carnival of Flowers Teddy Bears Picnic was a blast!
Families flocked to Picnic Point on Saturday 24 September to join in the fun. Throwing down a picnic rug, families pulled out a feast and enjoyed the beautiful sunny weather. The team at @Toowoomba Carnival of Flowers had pulled together a plethora of activities; colouring in, fairy bread making, rock painting and face painting. Fun games were presented by Dusty from Dreamtime Games.
Our tummies were filled with a sausage sizzle (there's really nothing better!) and to keep us healthy we could grab a cup full of chopped veges and fruit from The Root Cause.
Tambo Teddy families joined in the fun registering their Teds in the Tambo Teddy 'Roll-call' all receiving an activity pack of TT pencils, memory cards, info sheets, colouring in sheets and a woolly craft pack. The oldest bear visiting on the day was bear number 1633, Westbourne Wilbur owned by Rachel Black from Toowoomba. The youngest Tambo Ted was bear number 65701 Lumeah Liam who was recently picked up in the Toowoomba store.
Hoozat Entertainers presented their Teddy Bears Picnic in Wonderland show, and picnickers met the Queen of hearts, Mad Hatter, Alice and the March Hare as they hosted the annual Teddy Bears Picnic in Wonderland.  Children and their favourite Teddy danced and paraded around the park with the Mad Hatter and Big Tambo Ted. Some bears were dressed, and prizes were awarded for the biggest bear, the smallest bear, the most floral bear, and the best dressed bear.
The highlight of the day was of course DUG, a beautiful gardener bear who was a giveaway on the day. We received over 400 entries and the lucky winner was Hollie MacDonald from Meringandan, who was thrilled to be taking Dug home for her little fellow.
And as we said, that's a wrap for 2022, and we can't wait to help make this event even bigger and better next year!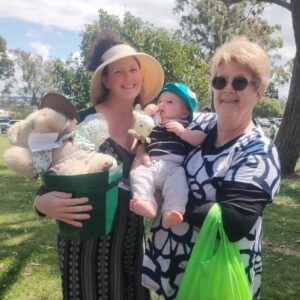 Hollie MacDonald winner of "Dug" at the Toowoomba Carnival of Flowers Teddy Bears Picnic.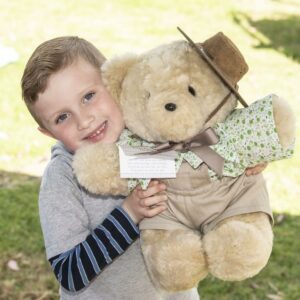 Flynn Hewitt had his entry in to win "Dug" at the Toowoomba Carnival of Flowers Teddy Bears Picnic. Picture: Nev Madsen.