Another busy year at Tambo Teddies ……………………………and it's time for a quick little recap and reflection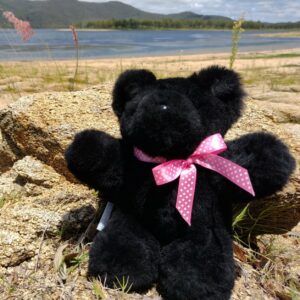 We started the year relaunching an old favourite bear, Tom Thumb. Initially only in black we have expanded the range to include cream, chocolate and spotty (when we can get the skins).
Sometimes, people just want a smaller teddy bear and Tom just fits the bill nicely. However, we need to have the right skins, they must have a shorter pile and be very supple and soft.
A heads up – we will have Toms in a range of colours, purple, red, teal, navy, dusky pink and orange, available online from mid- Jan 2023!
We always need great imagery to help promote our beautiful teddy bears. Fortunately, we have a ready pool of the cutest kids available in Tambo and in February we undertook our biggest photo shoot ever. Two days, thirteen children, five locations!
Our photographer, Lisa Alexander Photography, came over from Blackall and we got most of the images planned captured. But a rain event in Blackall sent Lisa hurrying away and we had to line up another day to capture the final shots.
Who was it who said never work with animals or children? We most certainly won't be pulling on animals anytime soon.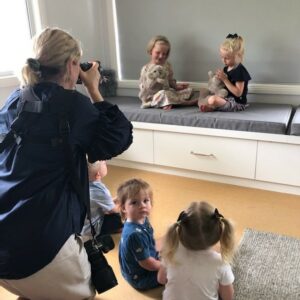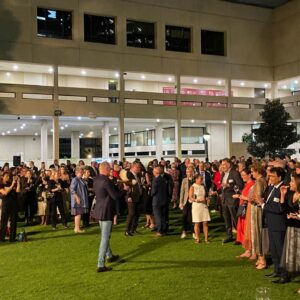 Queensland Flood Appeal. We love supporting good causes and flooding in Queensland was an opportunity to help our own. One of our stockists in Brisbane, Little Kisses, was severely impacted and we were fortunate to be able to send Nush a bundle of Bickie Bears to help get her back on her feet and open.  The 22 councils of western Queensland joined forces to support the 22 south east Queensland councils hit by the recent flood events making a collective $105,500 contribution to the Queensland Flood Appeal. Amongst the donated items that were auctioned was a Tambo Teddy, MacFarlane Mac, who was donated by the Blackall-Tambo Regional Council and raised a massive $1300.00.
Introducing Digger the Dog
We have so many Tambo Lambos jumping around the store we decided we needed to create our very own sheepdog to muster them up.
So, we created Digger – our border collie cross styled sheep dog.
Available in black or chocolate he (or she) comes with a smart collar and registration tag.
Just what every child needs in the playroom to round up lambos, chooks, dolls, rabbits and teddy bears.
A popular addition to the Tambo Teddy Bear family, we now have to work out what skins we can use to make an Australian Cattle dog and a Red Kelpie (Alison's favourite). 
Keep your eye on Digger – he is a brave boy and might just take off up the back paddock and chase something a little bit bigger!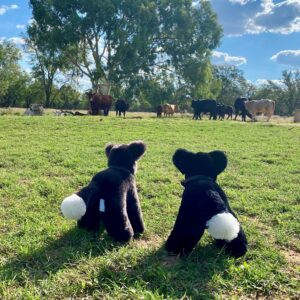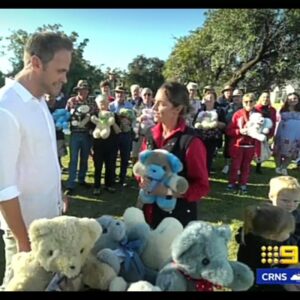 While Alison was swanning around New Zealand on holiday, the Today Show came to visit Blackall for a live wather cross.
While not Tammy's favourite thing to do she hauled the kids out of bed at 5am to be ready for the children's dancing segment at 6.30am. Remember – Blackall is 100kms from Tambo. Teddies were the last live cross for the morning, Tammy, Darcy, Dylan and 24 teddy bears lined up for a chat!
Meanwhile in New Zealand……….we had a lovely article in a New Zealand publication, Shepherdress. Alison had worked with the Editor, Kristy McGregor on a regional arts organisation and when she discovered Kristy had founded this amazing magazine she reached out to see if they would be interested in featuring our NZ venture.
As seen on TV – we had a wonderful new TV advert created. A friend happened to comment, 'That kid (Millie) must be at school by now!', and yes she is! So we have a new TV advert with Kelsea, her little sister being given a bear by our favourite grandmother, Jenny, as Millie watches on.
PLUS – Updating our website took longer than we anticipated BUT it finally went live!
And we love it!  A refreshed modern look that we will keep on tweaking and adding to with new content and images (and products too)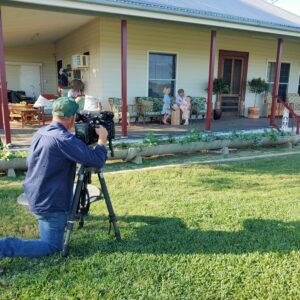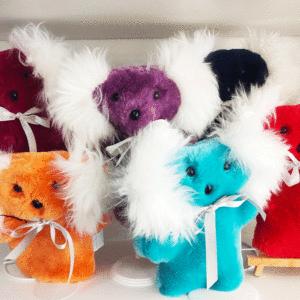 Updating our website included the creation of our Tambo Teddies Playroom.
The Playroom is full of fun activities for you to download and enjoy with your Tambo Teddy bears. Our first five activities are loaded and there's more to be added in 2023.
You can design your own Toby Tambo Teddy, send us your design and receive a discount when you order the bear. Cook with Ted and make our favourite recipes, take the Teddy Bears on a picnic, play Tambo Teddies memory game, or do some colouring in and send us your artwork for us to share.
Tambo Teddies Playroom – it is a place where kids (big and little) can do all kinds of cool stuff with their Tambo Teds.
All it takes is a little imagination, and in that spirit we also created and made some colourful puppets in July.
A couple of Podcasts
Alison had a few chats in August with a couple of podcasters.
The Regional 250, capturing stories from the bush and Manson podcasts, a lifestyle podcast about rural Australia.
Have a listen and find out a bit more about the 'behind the scenes' at Tambo Teddies and a bit about life in a small Outback town.
Meanwhile in Toowoomba we celebrated Multicultural month and cheered on Kahlil when he secured his Australian citizenship – what an accomplishment.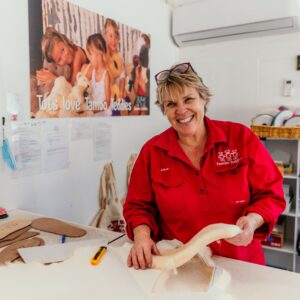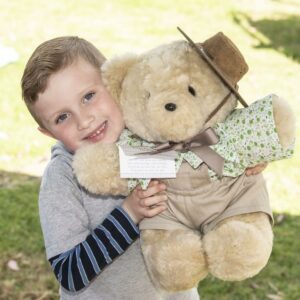 Tambo Teddies were the sponsors of the TCOF Teddy Bears Picnic which was held at Picnic Point in September. 
Tambo Teddy families joined in the fun registering their Teds in the Tambo Teddy 'Roll-call' all receiving an activity pack of TT pencils, memory cards, info sheets, colouring in sheets and a woolly craft pack. Hoozat Entertainers presented their Teddy Bears Picnic in Wonderland show, and children and their favourite Teddy danced and paraded around the park with the Mad Hatter and Big Tambo Ted. The highlight of the day was of course DUG, the Gardener Ted.  
We created DUG the gardener as a tribute bear to the gardeners of Toowoomba Carnival of Flowers.  DUG was a giveaway, we received over 400 entries and the lucky winner was Hollie MacDonald from Meringandan, who was thrilled to be taking Dug home for her little fellow.
The Variety Club came through Tambo in October and our local Tambo Tourism and Business Association (TTBA) were involved in running a bar to raise funds. Tambo Teddies donated a Mr Stockman Ted to raffle and raise over $1000 for our TTBA.
It was an amazing visit; the Variety Club donated a new bicycle to every child at the Tambo State School!
What a generous crowd, rallies like these really leave a great legacy behind in out small community.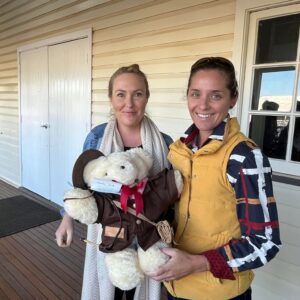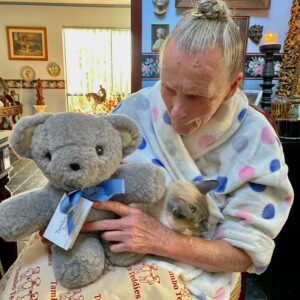 Baree Bimbo Found a new home.
We had soooooo many entries……….. it was really hard to choose, so many deserving people each with a heart wrenching story.
Baree Bimbo was a sought-after bear BUT we only had one Bimbo to give away and after a morning reading all the entries, we chose to send Bimbo all the way to South Australia.
Samantha entered her mother-in-law, Annie, into the running to receive Bimbo. Annie has dementia and has reverted back to her childhood and adores teddies, and she loves to touch and feel soft things.
When Annie received Bimbo, her face lit up with a smile……….
We partnered with Tambo's local photographer, Richard Birchley, aka Bushshutterman photography to provide the town with the opportunity to have some Santa snaps. This year the photos proved more popular than ever, and thirty families lined up.
The scene was set for a real 'Aussie' bush Christmas, complete with gum leaves and tree trunks. We were able to supply the possum to hang in the tree and Santa sat back patiently in his old rocking chair.
While there we took the chance of having a little fun with Santa – all in the spirit of Christmas!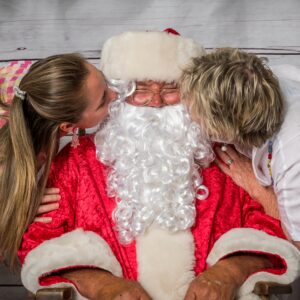 2022 is done and dusted and we're now looking ahead to 2023……..and with the business turning 30 in February we have loads in store!