We couldn't be a teddy bear shop without loving Teddy Bears- could we?
There are many famous Teds out there and our five favourites are:
Winnie the Pooh. What a character, Pooh or Pooh Bear as he is affectionately known was created by English author A. A. Milne back in the 1920s. We just adore Pooh, he is so wise, so kind and is always on the hunt for that jar of golden honey. In fact, the one book Alison has kept from her childhood is 'The House at Pooh Corner'. Actually belonging to her brother, this book is now over fifty years old but still very treasured. Her favourite poem is 'The more it snows, tiddely pom'.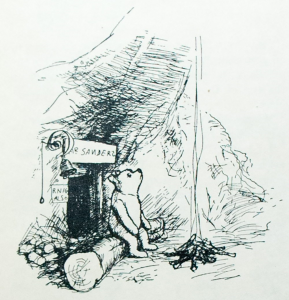 2. Paddington Bear. Paddington is another of our favourite teddy bears. The friendly bear from                      darkest Peru with his old hat, battered suitcase, duffel coat and love of marmalade is another classic          character from British children's literature. At Teddies, our fabulous sewer Josie has dressed one of          our gorgeous Basil Bears as Paddington. Rather a good look – don't you agree?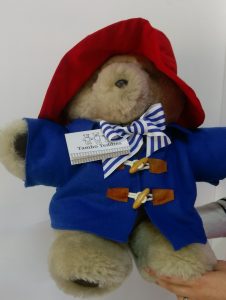 3. Another famous trio of bears feature in the perennial story of  Goldilocks and the Three Bears.                    Mama Bear, Papa Bear and Baby Bear, who wouldn't love them? This children's story gained                      popularity when it was first published under the title "Story of the Three Bears," in 1837.   In the                original  version, the intruding human was an old woman with no name. By the late 1800's, the                  intruder was a young girl named Golden Hair and, finally, Goldilocks. In every version, the bears                were the victims of a thieving, destructive human, who runs away when discovered. But there's a bit          of a recurrent theme with these bears – FOOD! Honey, marmalade and now porridge!
4. Rupert Bear, another English teddy bear character. Initially created as a comic book character by              the English artist Mary Tourtel, he first appeared in the Daily Express in 1920. Today, Rupert Bear            features in books, on TV and there is a whole franchise of merchandise built around this colourful              character and his adventures. In 2020, Rupert celebrates his 100th birthday, still bringing a smile              to readers everyday.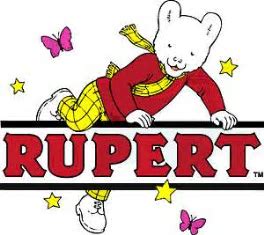 5. Across the ocean, Yogi Bear captured hearts from 1958. Yogi Bear is a funny animal who has                       appeared in numerous comic books, cartoons shows and films. He made his debut as a supporting            character in The Huckleberry Hound Show. In January 1961, he was given his own show, The Yogi            Bear Show, sponsored by Kellogg's, and he became a hero to a generation.
Of course, we do love our own Teddy Bears and are always striving to bring new colours and fun into our range. Who is your favourite Teddy Bear?