Teddy Bears are loved all over the world. One of our blogs was about sending these huggable friends oversees and showing some love from Australia. This love for Teddy Bears comes not only from beautiful Australia, but it happens all over the world!
For example, the 27th of October, it's International Teddy Bear Day in Europe. You can go on Teddy Bear themed hikes, and they make Teddy Bear shaped cookies (check the end of this blog for an amazingly recipe!).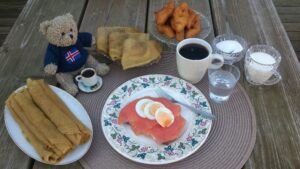 On the 7th of November, they even have an international Hug A Bear Day. We're pretty confident they mean a stuffed one, but hey, who makes the rules!
Another surprising idea comes from Iceland. COVID has affected countries worldwide, and places as remote as Iceland fight back with Teddy Bears! Residents of Reykjavík are placing teddy bears in their windows as part of a new game for children.
For those kids unable to hang out with their friends or do their normal activities, it's a great way to have some fun while also getting some fresh air outside. The event is about increasing children's time outside while also giving families something fun to do together. Even when most children now feel the joy of being together with their parents, it takes a toll on them to not see their friends. Going on a Teddy Bear hunt outside is a great way to keep your distance but also connect!
Another great way to connect is through the combination of Teddy Bears and…baking bickies! Okay, and eating them afterward *yum, yum, yum*
Enjoy this recipe and maybe you can even make scary ones to give it a Halloween twist!
Ingredients:
1 cup sugar
3/4 cup Butter, softened
1 Large Egg
2 teaspoons vanilla
2 1/4 cups all-purpose flour
1 teaspoon baking powder
1/4 teaspoon salt
2 (1-ounce) squares unsweetened baking chocolate, melted
How to make
Heat oven to 375°F.
Combine sugar, butter, egg and vanilla in bowl. Beat at medium speed, scraping bowl often, until well mixed. Add flour, baking powder and salt; beat at low speed, scraping bowl often, until well mixed.
Divide dough in half. Place half of dough into another bowl; stir in chocolate until well mixed.
Shape each teddy bear using either vanilla or chocolate dough or a combination for two-toned teddy bears. Shape 1 large (1-inch) ball for body. Place onto ungreased cookie sheet; flatten slightly. Shape 1 medium (3/4-inch) ball for head, 4 small (1/2-inch) balls for arms and legs, 2 smaller balls for ears. Attach head, arms, legs and ears by overlapping slightly onto body. Add small balls for eyes, nose and mouth, if desired. Use fork to make claws on paws.
Bake 7-8 minutes or until body is set. Cool 1 minute on cookie sheet; remove to cooling rack. Cool completely.
ENJOY!